Blood RNA-Sequencing data is processed using a variety of bioinformatics tools to map reads to human genes, cells, bacteria/viruses, immune repertoire, and many others as shown in the figure below.
COVID-19 Blood Transcriptome
This paper mapped multiple human gene signatures of hospitalized COVID-19 but determined there were actually two different groups of patients, those with immune activation and those suppressed.
Prokop JW, Bupp CP, Chesla D, Faber W, Love CP, Karam R, Abualkheir N, Feldmann B, Teng L, McBride T, Leimanis ML, English BK, Frisch A, Bauss J, Kalpage N, Derbedrossian A, Pinti RM, Hall N, Mills J, Eby A, VanSickle EA, Pageau SC, Shankar R, Chen B, Carcillo J, Olivero R, Hartog NL, Rajasekaran S. High-Density Blood Transcriptomics Reveals Precision Immune Signatures of SARS-CoV-2 Infection in Hospitalized Individuals. Frontiers in Immunology. 12:694243 (2021). PMID: 34335605.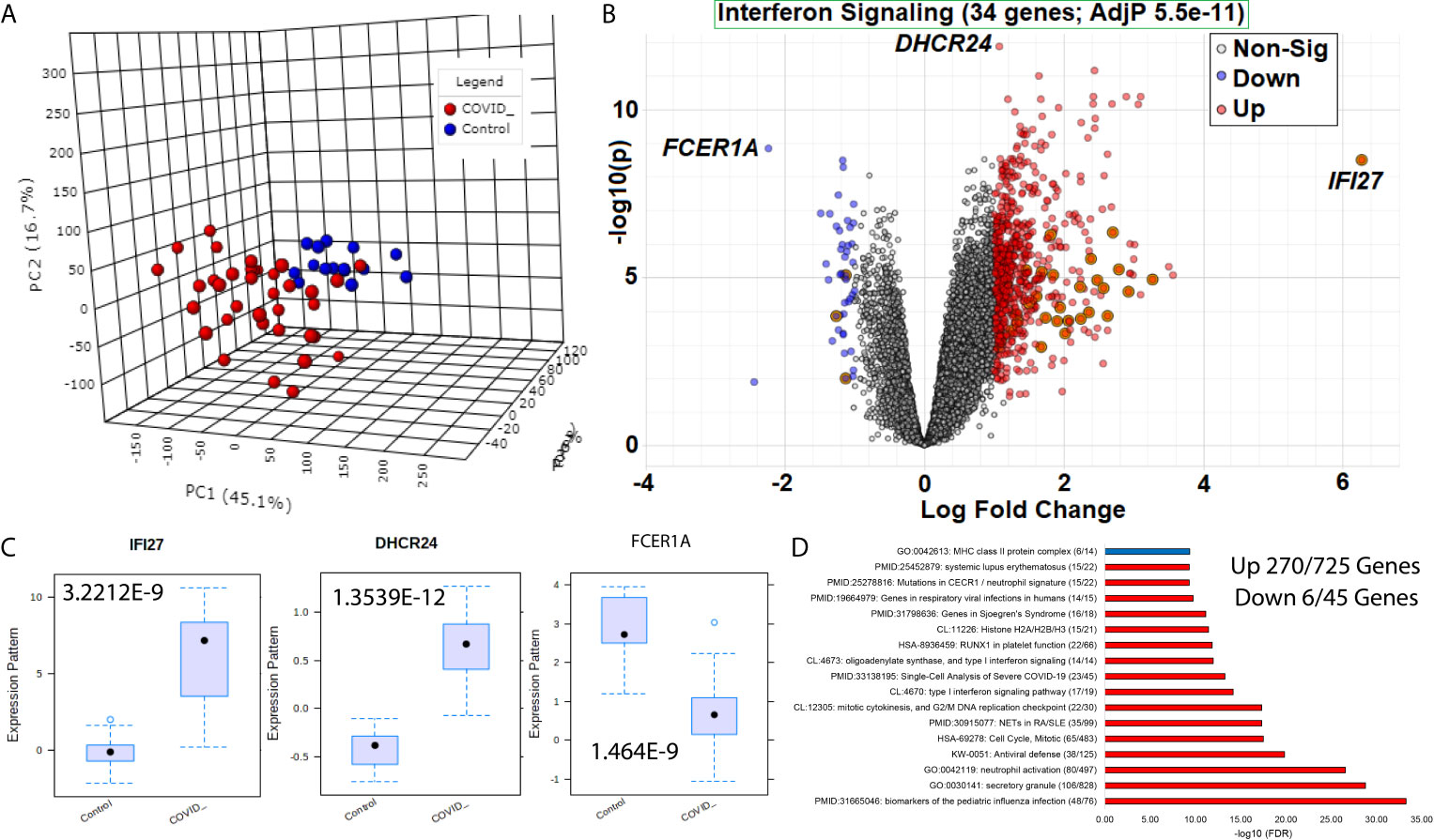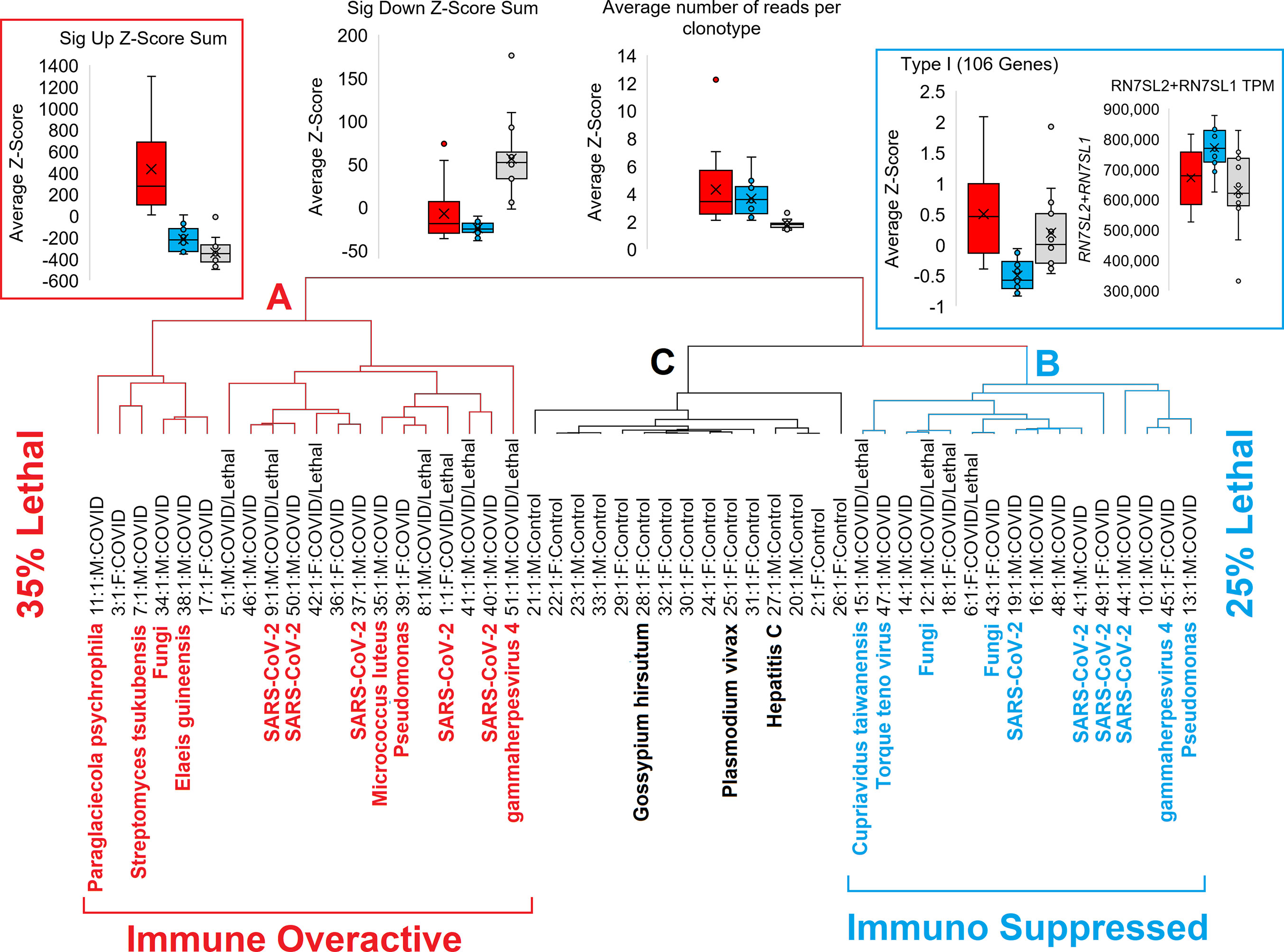 Infant RSV
Gene signatures of these patients showed shared response but similar to the COVID-19 study, each patient had unique signatures of infections.
Gupta R, Leimanis ML, Adams M, Bachmann AS, Uhl K, Bupp CP, Hartog NL, Kort EJ, Olivero R, Comstock SS, Sanfilippo DJ, Lunt SY, Prokop JW*, Rajasekaran S*. Balancing Precision vs. Cohort Transcriptomic Analysis of Acute and Recovery Phase of Viral Bronchiolitis. American Journal of Physiology-Lung Cellular and Molecular Physiology. 320(6):L1147-L1157 (2021). *Co-corresponding. PMID: 33851876
Precision Medicine of Multiple Organ Dysfunction Syndrome
Patients showed broad insights with mapping data well correlated to clinical records. One of the patients we discovered the process termed viral induced genetics, where a virus dysregulates nonsense mediated decay pathways to activate dominant negative variants.
Shankar R, Leimanis M, Newbury PA, Liu K, Xing J, Nedveck D, Kort EJ, Prokop JW, Zhou G, Bachmann AS, Chen B, Rajasekaran S. Gene expression signatures identify pediatric patients with multiple organ dysfunction who require advanced life support in the intensive care unit. EBiomEdicine. 62:103122 (2020). PMID: 33248372.
Prokop JW, Shankar R, Gupta R, Leimanis ML, Nedveck D, Uhl K, Chen B, Hartog NL, Van Veen J, Sisco JS, Sirpilla O, Lydic T, Boville B, Hernandez A, Braunreiter C, Kuk CC, Singh V, Mills J, Wegener M, Adams M, Rhodes M, Bachmann AS, Pan W, Byrne-Steele ML, Smith DC, Depinet M, Brown BE, Eisenhower M, Han J, Haw M, Madura C, Sanfilippo DJ, Seaver LH, Bupp C, Rajasekaran S. Virus-induced genetics revealed by multidimensional precision medicine transcriptional workflow applicable to COVID-19. Physiological Genomics (2020) 52(6):255-268.  PMID: 32437232.
CCR5, HIV resistance and Critical Care
We used multiple datasets to study the highly popular CCR5 in our critical care samples, elucidating that many of the worse patients carried the delta 32 allele.
Bauss J, Morris M, Shankar R, Olivero R, Buck LN, Stenger CL, Hinds D, Mills J, Eby A, Zagorski JW, Smith C, Cline S, Hartog N,  Chen B,  Huss J,  Carcillo JA,  Rajasekaran S,  Bupp C, Prokop JW. CCR5 and biological complexity: the need for data integration and educational materials to normalize genetic/biological reductionism at the interface of Ethical, Legal, and Social Implications. Frontiers in Immunology. 12:790041 (2021). PMID: 34925370